Extra-amorous Bond And A Freaky Waltz: What We've Learned About Spectre
If Spectre turns out to be one of the better Bond movies, we might just have to start talking about Daniel Craig as the top 007 of all time. After all, even the great Sean Connery only managed five decent movies out of seven (You Only Live Twice and Diamonds are Forever are the turkeys) in his Eon Productions heyday as the suave British secret agent. Craig would have three out of four, with only 2008's middling Quantum of Solace to stain his CV.
The stakes, then, are high. But as publicity for the 6 November release of Sam Mendes' film begins to ramp up, Spectre's secrets are slowly beginning to unfurl. Earlier this week reports from a shoot near Vauxhall Bridge in London revealed a potentially gargantuan spoiler regarding Christoph Waltz's Franz Oberhauser. And today sees the release of an extended TV spot featuring a smattering of new footage. So what have we learned?
Related: Monica Bellucci on joining Spectre: 'I thought I was replacing Judi Dench'
Bond gets up close and personal with at least two "Bond girls"
Léa Seydoux's Dr Madeleine Swann, Monica Bellucci's Lucia Sciarra and Stephanie Sigman's Estrella are rumoured to be vying for 007's affections in Spectre, and the TV spot hints that 007 might be redeveloping some of his old viper-like charm. Craig hasn't been the most amorous of James Bonds in his nine-year stint in the role, with only a handful of trysts to his name and a habit of coming out second best to confident women such as Eva Green's Vesper Lynd and Olga Kurylenko's Camille Montes - a sign of the times, perhaps. But Swann seems to be blushing putty in his hands in one brief shot from the new trailer, while Bellucci looks positively intimidated by an overbearing, too-close-for-comfort Craig. Could this be the cruellest take yet on MI6's top man, or at least the meanest since Roger Moore's early-era cad in Live and Let Die?
Ben Whishaw's Q still seems to be firefighting
He's something of a cocky little so-and-so, but MI6's new Quartermaster swiftly found himself taken down a peg or two in Skyfall. While attempting to hack his way into Raoul Silva's laptop, he inadvertently allowed the villain to escape from custody and wreak havoc in the corridors of power. Whishaw also failed miserably on the gadget front, a measly personally-encoded Walther PPK and rubbish miniaturised radio suggesting he could yet prove to be the most hapless Q since John Cleese's short-lived iteration. It's not looking much better in Spectre, with Whishaw appearing panicked as a large window proclaiming the legend SYSTEM SHUTDOWN INITIATED (never good) appears on his computer screen. Surely the bad guys haven't got into MI6 again, Q? Come on old fellow, look lively now.
Rome scrubs up pretty well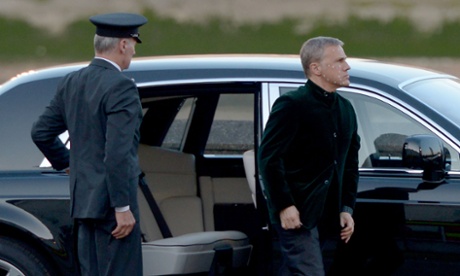 Bad, he? ... Christoph Waltz films a scene as Franz Oberhauser Photograph: Anthony Devlin/PA
Local campaigners worried that Bond might find himself speeding past graffiti-stained walls and wading through rubbish during his visit to the Eternal City, but the famous Ponte Sisto bridge looks pretty gorgeous during a brief glimpse of a night-time chase scene. It's amazing what they can do with CGI these days. Other Roman locations for the shoot reputedly included the ancient Forum, though the scenes of Oberhauser's Illuminati-like gathering were likely shot at the very British Blenheim Palace.
Related: Spectre: watch footage from the James Bond shoot in Austria
It's chaos on the slopes of Sölden
Ever since Die Another Die's appalling ice-skating invisible car debacle, Bond has tended to keep well away from cold environments. But the new TV spot suggests it's about to get pretty heated in the Austrian alps. Spectre was shot partly in the resort of Sölden, where you'll apparently find yourself sharing the slopes with smashed up planes, 4x4 megawagons and speeding helicopters. No word yet on whether the distinctly furrow-browed Craig iteration of 007 will pull on a yellow jump suit and ski-jump off the end of a cliff before floating down to earth with a Union Jack parachute - but given this is 2015, we're guessing probably not.
Christoph Waltz's Franz Oberhauser might look pretty freaky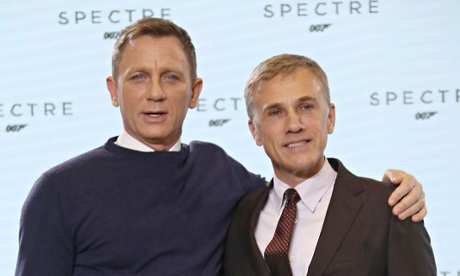 Never say never … Daniel Craig and Christoph Waltz at the Spectre press conference in London. Photograph: Joel Ryan/Invision/ AP
It's a much-loved Bond villain trope, from Donald Pleasence's outrageously-scarred take on Ernst Stavro Blofeld in 1969's much-riffed-on You Only Live Twice, to the horrific dental face implant worn by Javier Bardem's Silva last time out. But is Skyfall about to take the trend for 007's enemies to bear monstrous physical deformities to a whole new level? Reports from the London shoot earlier this week suggest Waltz was sporting mo-cap style dots, usually used to allow designers to add CGI elements at a later stage. What level of facial horror are we about to witness that Mendes and his team decided traditional makeup just wouldn't cut it? And does this explain why we've only seen the shadowy outline of Blofe ... sorry Oberhauser's features in footage so far?